It would be an event of a lifetime for many football fans in India. To see players like Robben, Neuer, Gomez, Ribery in flesh and blood, let alone watch them actually play, will have pleasant memories for a very long time. The entire experience was fantastic  except for the ticket mayhem by bookmyshow. As expected, Bayern Munich had almost 100% possession and won the game comfortably. Indian player lacked the confidence for almost three quarters of the game and were no match to the physically imposing Bayer players. It was only in the last quarter that the Indian team started making some moves. This incidentally coincided with the wholesale substitution by the Bayern team to take out all the key players.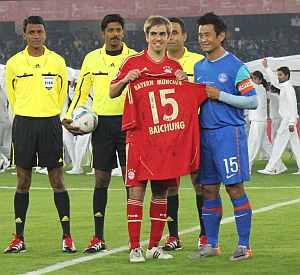 This game however gives some cheers to the otherwise sad score line. Every exhibition match of this sort provides great opportunity for the weak team's goalkeeper to shine. The reasons are obvious. This game was not different. The first half of the game was played in India's half. There were many attempts by the Bayern team. Four went in but the rest were saved by Karanjit. Some of them were top class. Subhasish continued in the second half with a better performance and was able to keep clean sheet.  There were tense moments between 53rd and 55th minute with attempts in succession but Subhasish showed great reflexes.
The defense on Indian team was strong and the score line could have been almost double if not for the collective performance of the defensive unit. There were no mix-ups, quick clearances and neat tackles.
The highlight of the match was the spirited performance of Nabi. Nabi is a star in making. He has great speed, makes those quick dashes with the ball and more importantly he has the persistence of a defender. His work rate is amongst the best in the team and the game lightens up whenever he has the ball. He still needs to work on his skills specially ball control. He tends to lose the ball too often when creating a counter attack and lacks the creativity to make good passes. But these improvements are for another day. He was the star today. He did not let Robben make any move. Robben is the best winger of our times and Nabi matched him with his defensive skills. Nabi was the only player who was not awed by the great Bayern team. Infact he did not hesitate to tackle Robben and there was a duel between the two on the field. Robben played fluently when he moved inside but on the left flank his movements were broken by Nabi.
It was a good game and an amazing experience. Indian fans should now hope to see more games like this.