Whenever someone talks to me about football in India, it seems very strange to me. Yes, strange is the word. I cannot express myself when someone tells me "Look Himanshu your country doesn't even have a decent ground to play on. Your international players play in the mug where they can hardly kick the ball, and all this when they're under a FIFA regulatory (AIFF)."
The pictures of deceitful changing rooms, washrooms and even restrooms are disgraceful. My die-hard cricket frenzy friends usually make fun of such situations and insist that nothing is going to change football in India. Well I quite agree with their statement.
Few years back when I had just entered my junior college and current affairs was one of the subject in our syllabus, I vaguely remember reading a story which said Indian Cricketers were infuriated looking at the filthy dressing room and washroom and decided not to continue playing the test match. This was in Nagpur.
Again if you read now and then, these international cricketers crib about the pitch being unsuitable to bat on or to bowl, which can be done with. We also know some of the cricketers cribbing about the weather temperature and the crowd, giving them an excuse not to resume playing. Well this goes as far as cricket is concerned.
Just yesterday, I read an article which says "Barcelona FC complained to kit manufacturers Nike about the inability to play after few minutes once the jersey soaks up the sweat which increases the weight of the jerseys by few grams." I mean seriously, how much of a difference does that make? You've world class players like Messi and clan; do you still feel that will hinder your game? Isn't this a frivolous issue to point out?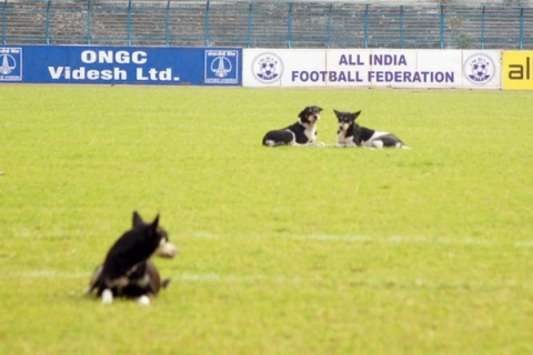 Now, compare the two situations above and tell me what should A.I.F.F do in the welfare of Indian Football Players? Our Indian Football Players have never complained about the unfavourable grounds, dressing room, washrooms and infrastructure. To add to all their jerseys, so what is it that A.I.F.F is stopping itself from raising the infrastructure for the betterment of the game? I'm clueless, if you know the answer please tell me in the comments section.