Prayag United Fans beaten up brutally , Stands set on fire, buses ransacked
On 26th September 2011,Monday semifinal clash between East Bengal club and Prayag united sports club took place at Yuva Bharati Krirangran, Saltlake stadium,Kolkata. The match witnessed violent clashes between the fans of to rival clubs. Kolkata is known as the football capital of India, and clubs like  East Bengal,Mohun Bagan , Mohammedan Sporting has huge fan base . United Sports club in recent years proved their  mark not only in city's football but also in Indian arena as well. This year the authorities and officials of Prayag United SC has have invested a lot to make the team a tittle contender and created fan base among the football lovers of city of joy.
On this account several fans including girls wearing Prayag T-Shirts,Scarfs visited the ground with musical instruments and hoisted club flags on the stands of the stadium. They were 5000 in number but they created a lighting atmosphere in the stadium,which is spectacular and rarely seen in Indian football.  They cheered for every attack of their club and celebrated their goal with loud shouts.
This occasion proved unbearable for so called BIG CLUB'S [BORO DOL] fans. Taking advantage of their large number of attendance they mercilessly  beat up Prayag fans. East Bengal fans burnt Prayag flags, light up fire in the Prayag's gallery  they kicked United supporters out of the stadium ,throwed stones and shoes on them. Even ladies were also abused. At the end of the day's play, the angry East Bengal mob questioned "Who are Prayag fans? They all are Mohun Baganis , we won't tolerate any others in our stadium". To celebrate their victory Red and Gold fans ransacked United's buses also. Brutally injured supporters of United SC admitted to the local hospital. Someone's face, someone's head was broken.
After Messi's arrival to 'City of Joy' everybody expected a change in Football stadium like Yuva Bharati, but the result is in front of you. For this reason many fans and followers of the Indian football have turned their back towards football grounds. And this scenario is going on from decades. Everybody is  blaming IFA officials, security forces  for this turmoil. But we the fans are responsible for this, it's our mentality which causes problems . After yesterday's experience if a football lover quits coming into the field who is responsible for that ? We deeply regret this cowardice act from a section of East Bengal fans and we urge to administration that please identify thes criminals and punish them strongly.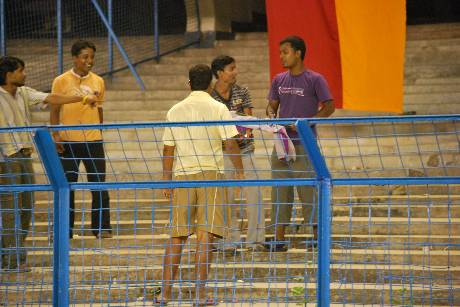 We, the East Bengal fans have been shown in bad light due to these hooligans who call themselves EB fans and bring insult to the club. We urge the sensible EB fans to stop others from doing these sort of activity.
NB: IFA was requested by Prayag to provide a separate gallery for their fans but IFA failed to do so. Thus the fans had to sit together which escalated tension between the 2 parties. So in reality, its the faliure of IFA. But even then, the violence is unjustified.
This article was sent to IFN by an East Bengal fan who wishes to be anonymous.
Image Courtesy: Prayag United SC