In this article, we have listed top 10 goal getters in I-League and, in brief, described how much they were important for their respective teams. In the IFN Forum we have listed the full scorers list of this season, please click here to avail that list. For any discussion, complaint or suggestion on I league statistics provided by us please click here.
1 # Ranti Martins: 30 Goals
Citizen of : Nigeria
Ranti Martins became the top scorer this season eclipsing Odafa Okolie after staying behind him for 3 seasons.
Influence: Ranti Martins, along with Beto scored more than 70% of goals for Dempo. One of the reasons why Dempo were lagging behind during the first leg was because Ranti was unable to find his lethal form and scored only 7 goals. However, Ranti found his consistency and became the only player to score in all 13 matches of the second half, including scoring 7 goals in the controversial 14-0 win against Air India.
2 # Odafa Okolie: 25 Goals
Citizen of : Nigeria
At last, Odafa couldn't top the scorers list. He was at the top for most of the season, inspite of missing few games. However, Ranti's 7 goals in the Air India game demoted him to the second spot.
Influence: Odafa clearly showed why he is the most expensive and sought-after striker in I league. He scored 15 goals in first 7 matches, but later was injured and missed few games. Once he came back from injury, it didn't take much time to regain his form and the 'goal-machine' scored 10 more! He had been a lone scorer in 8 games, showing how much his team depends on him. However, he has been accused of being someone whom the coaches find difficult to work with and imparts a negative influence in the camp.
3 # Ryuji Sueoka : 18 Goals
Citizen of : Japan
Sueoka, after an average first year in Mohun Bagan, clearly showed why he is one of the best PAOs around, scoring 18 goals and finished as the 3rd top scorer.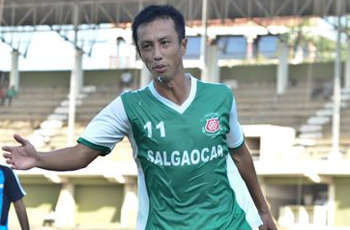 Influence: Usually an attacking midfielder, Sueoka, was used used as a striker by Salgaocar coach Karim Bencherifa. This proved to be a tactical masterstroke. Although Salgaocar had Yakubu, it was Sueoka who was hugely responsible for lifting his side to I league victory. During initial phases Yakubu was not getting much goals (4 goals in first half), that time Sueoka scored 12 times to take his team to second position, something which gave confidence to the team and paved the way for them to be champions.
4 # Tolgay Ozbey : 17 Goals
Citizen of : Australia
Tolgay had a fantastic first season in India. This Australian, brought by East Bengal coach Trevor Morgan, became instant hero for the Red and Golds.
Influence : How important was Tolgay can be clearly demonstrated by the fact that Tolgay had been the lone scorer for 6 times (all of them were won by EB). Clearly, a match winner, who had carried EB on his shoulder for most of the season. EB was totally dependent on him during the transition where Robin lost his form and Baljit was yet to find his rhythm.
5 # Roberto Mendes da Silva (Beto) : 16 Goals
Citizen of : Brazil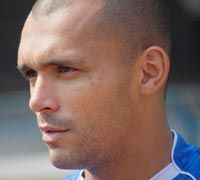 Beto becomes the only midfielder to find a place in top 5 (in fact in top 10).
Influence: During the start of the season Dempo management and Beto had differences. Dempo realized how important he was for the team and quickly sorted out the differences. This Brazilian has been the creative force behind Dempo, not only scoring 16 goals but also giving many assists and a reason why Ranti has so many goals.
6 # Yusif Yakubu : 15 Goals
Citizen of : Ghana
A veteran in India now, still his hunger for goals has not been quenched. Start of the season, nobody expected much from him but still he finished with 15 goals.
Influence : If Sueoka is responsible for giving Salgaocar a great start, it was upto Yakubu to see Salgaocar finish off in style. His 11 goals in second half of the season were absolutely crucial. His most crucial goal, probably will be the last goal against East Bengal, where Salgaocar fought back from 0-2 to win 3-2, a match which could have changed the final league table positions if gone the other way. Even Karim mentioned that Yakubu will be missed next season, after he decided to leave Salgaocar.
7 # Mandjou Keita : 13 Goals
Citizen of : Guinea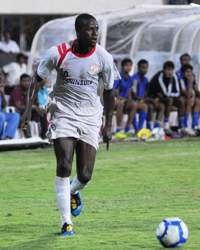 This Guinean striker makes it to top 10 after his impressive performances in second half of the season.
Influence: Keita scored only 5 goals in first half of the season, including a hattrick against JCT, however his 8 goals in second half were absolutely crucial in PFC's fight comeback to get a respectable position. He proved to be one of most important match winners for Pune FC. He scored crucial goals against Pune FC's wins against East Bengal, Dempo, Churchill Brothers, ONGC, Air India and HAL.
The 8th, 9th and 10th position holders, all have 12 goals.
Jeje Lalpekhlua : 12 Goals
Citizen of : India
Finally, an Indian the list (and the only one)!
Influence: Jeje, now considered as the next big thing in Indian football, has been one of the beneficiaries of the Indian Arrows project by AIFF. Much like Indian Arrows, Jeje didn't create any flutter with his start, scoring only 1 goal in first half. Then suddenly changed gears, scoring 11 times in last 13 games, including 2 hattricks. His performances were one of the reasons for Arrows to avoid relegation.
Kayne Vincent : 12 Goals
Citizen of : New Zealand
Last year, in Mumbai FC, he had an average season because of his knee injury. However, this season, this former New Zealand u-20 player showed his goal scoring abilities by scoring 12 times.
Influence: Kayne Vincent signed Churchill Brothers after the start of the season and mostly was used as a substitute, when Odafa was available for the matches. However in matches where Odafa was absent due to injury, he started and kept the Churchill's forward line as one of the most dangerous this season. His ability to come as a substitute and score goals at the dying moment of the match proved crucial in many games. His most important contribution was scoring a brace against East Bengal in the 2-2 draw in Kolkata, which halted East Bengal's progress.
Okorogor Praise : 12 Goals
Citizen of : Nigeria
This unknown Nigerian suddenly became a player 'in demand' after his 12 goals for lackluster Air India.
Influence: Praise, probably, is the only silver-lining in a dismal season by Air India. Praise almost single handedly saved Air India from relegation, becoming the lone scorer for 7 matches (where they collected 9 valuable points).
(There are few differences between different media reports. In case of any confusions we have always adhered to AIFF report. In case the match report is not published by AIFF (as happened in earlier matches), local website reports were given more weightage. Still there might be some anomalies, and we encourage anyone to report them to us, we will try our best to provide the proper information.)
Please also check :
More on I League Statistics, click here : IFN I-League statistics thread